Original Art
"Essence of Duetto"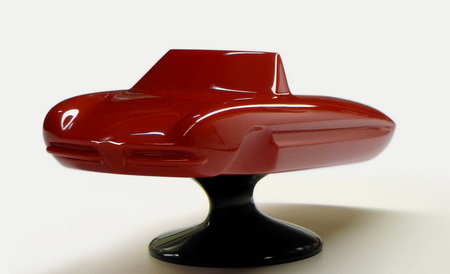 About the Sculpture
The "Essence of Duetto" is an original design in handcrafted resin. It contains all the classic Duetto features in ~1:32 scale. The boat tail, the side scallops, even the hint of the round insignia rise transition to the hood. The front grille and front bumpers are taken from the prototype Giulietta Spider Speciale Aerodinamica as shown in Turin in 1961.
My intention:
To capture the essence of the Pininfarina styling of the Duetto.
Design features from the prototype concept cars
highlight an aerodynamic silhouette
unhindered by the limitations of reality.
The stand included with the car is also an original design in handcrafted resin. It features a carefully selected platform incorporating a special angle that allows infinite 360° positional views and presentation as if in flight. The stand has a felt bottom for protection.
I have selected the Duetto because it is an incredibly classic shape that was produced for some 30 years yet seems to have very little art available for it. This project was very satisfying in that it actually turned out the way I wanted. My only hope is that others see it and enjoy it.
About Purchasing
After producing a number of them and realizing the amount of effort to hand finish and polish each one, I find it is quite a task. No computers are involved at all. It is all the hand finishing that takes so much time, but I can't skimp on the quality. It's just not my nature. I know that when you order it – you want it, but sometimes it is also good to wait in anticipation of something nice. I can only make perhaps 2 per day, each piece will be delivered first come first serve. Please be patient and remember, I'm just a guy trying to create something special for you.
To help control cost, I have a second version that has a black anodized aluminum stand machined to my specifications. It is a quality piece with a felt bottom, and is the same height and angle as my resin stand.
Two versions are available currently in red only.